Wendy Bernard is back with a brand NEW stitch dictionary.  The queen of swatching has done it again. Creating a second up, down, all-around stitch dictionary. Best of all we have her on the OFFICIAL LAUNCH date of the book! Be sure to listen to this episode and learn all that you need to know about making beautiful swatches and turning it into your next favorite item.
*This post contains affiliate links. By clicking on one of these links and making a purchase a portion will go to the blog. The price you pay will not change and the small commission I receive helps me to keep brining you free content and giveaways on the blog. Thank you for your continued support.*
About Wendy Bernard:
Wendy Bernard is the author of The Knitting All Around Stitch Dictionary, Up, Down, All-Around Stitch Dictionary, and the Custom Knits series. Her popular blog, Knit and Tonic (www.knitandtonic.net), has thousands of fans, and her knitwear patterns have been published everywhere, from Knitty and Stitch Diva Studios to Interweave Knits and Knitscene magazines. She teaches top-down knitting on Creativebug, Craftsy, and via her DVD series (Interweave).

Japanese Stitches Unraveled:
One of the greatest things about the stitch dictionaries that Wendy creates is that she really thinks about the way that we are going to use them. Yes, we will knit things flat. Sometimes we want to knit in the round or we want to knit top down and with a traditional stitch dictionary there is a lot of work you have to do before getting started.
In this book Wendy has put together 150 stitch patterns inspired by Japanese stich designs. The book includes fully illustrated charts, symbols and instructions for each stitch pattern. You will also find six garments in the book demonstrating how to translate the stitch pattern to something usable.
This book starts out by talking about how to swatch, why swatching is important, how to swatch in the round and other tips and tricks when swatching. Swatching is an important part of making things, particularly those that you are going to wear. Many people would rather skip making a swatch but this can be detrimental in some cases.
Swatches in this book are broken down into the following categories:
Knits & Purls
Ribs
Fancy & Twisted
Cabels
Lace
If you love this book you will want to be sure to check out Wendy's other two stitch dictionaries and other pattern books.
Wendy on the Yarn Thing Podcast:
Wendy has been on the Yarn Thing Podcast before to talk about her books. I am sure that if you loved this episode you will enjoy learning about her other books as well.
Up, Down, All-Around Stitch Dictionary Episode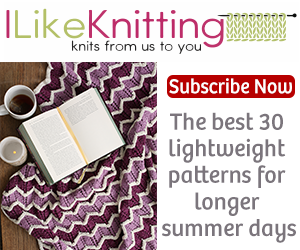 Find Wendy Online:
Shop Wendy's Books:
Listen to the Show:
Yarn Thing Podcast Sponsors:
Without the help from our wonderful sponsors I wouldn't be able to create this amazing show for you. Please show the sponsors some love and visit their website.
Also on the Blog:
Follow Marly: