Looking for an amazing crochet magazine? The Crochet Foundry is a brand NEW crochet magazine releasing their second issue. Some of the founding designers joined me on the Yarn Thing Podcast to talk about what goes into making a crochet magazine, how the idea got started and what you can look forward to in their next edition. Get hooked on this new crochet magazine, The Crochet Foundry.
*This post contains affiliate links. By clicking one of these links and making a purchase a small portion comes back to the blog. The price you pay will not change. Thank you for your support of the blog.*
About Crochet Foundry Magazine
Crochet Foundry is a seasonal digital magazine that aims to bring our audience a curated pattern collection that is size inclusive. This is a collaborative effort between all the designers involved. The designers are also collaborating with Furls Crochet and We Crochet to bring you an amazing crochet magazine.
For the Summer 2020 issue, you will find a beautiful palette of blush, sage, and soft greys to give a garden feel to the designs.
This new endeavor is brought to you by Briana Kepner of Briana K Designs, Emily Davies of Hooked Hazel, Katy Petersen of KT and the Squid, Lorene Eppolite of Cre8tion Crochet and Pamela Stark of Sincerely, Pam. Learn more about each of these designers below.
Sneak Peak: Next season The Crochet Foundry magazine will also be featuring Amber Millard of Divine Debris and Michelle Moore of MJ's Off the Hook Designs and Sentry Box Designs. Don't miss out on joining us on the Podcast again in September 2020.
Crochet Foundry Designers
About Emily | Hooked Hazel
Emily is the designer and creator behind Hooked Hazel. Crocheting and Knitting have been two of her favorite hobbies for as long as she can remember. Emily started Hooked Hazel in 2016 as a way to connect with the fiber community and to share her passion for design and making. She strives to design accessories and garments that are classic and accessible.
Find Hooked Hazel online in the following locations
About Briana | Briana K Designs
Briana is the designer behind Briana K Designs and lives in Florida. She enjoys nature (especially hiking and the beach), speaks GIF and sarcasm fluently and tries to find humor in all aspects of life. In her designs, she loves working with a variety of colors and textures to create pieces for all ages, and believes creating with yarn brings a piece of beauty into all the corners of the world.
Find Briana K Designs online in the following locations
About Katy | KT & the Squid
Katy is the crochet designer and yarn dyer behind KT and the Squid. She taught herself to knit and crochet in high school and started designing in 2011. Her favorite things to make include garments and shawls for women. Her style is contemporary, lightweight, and simple. Katy is normally a quiet person but if you get her talking about yarn, knit or crochet, you'll never get her to stop.
Find KT & the Squid online in the following locations
About Lorene | Cre8tion Crochet
Lorene Eppolite is the designer behind Cre8tion Crochet. She has been designing since October 2012. She loves to create fun and easy crochet accessories and garments. Lorene strives to make her designs achievable for any skill level. Just because it is easy, doesn't mean it can't be beautiful.
Find Cre8tion Crochet online in the following locations
About Pam | Sincerely, Pam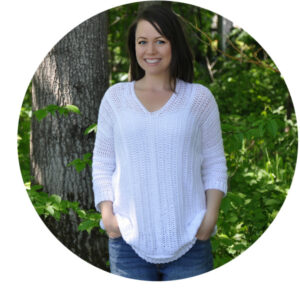 Pam is the 30-something, baseball-lovin', coffee-chuggin', home renovation addict behind the crochet brand Sincerely Pam. She is best known for creating designed garments and accessories that are not only deceptively simple, but also integrate seamlessly into everyday life.
Find Sincerely, Pam online in the following locations
About Michelle | MJ's Off the Hook
Like many, Michelle was taught to knit at a young age by her Nan, but it wasn't until years later that she picked up knitting again. The extent of her skills were no more than the scarves of her childhood, but the desire to build on and expand those skills was strong.
In Fall 2012 her daughter joined a knitting and crocheting club at school, and Michelle's interest was sparked. She picked up a how-to CD, some yarn and a couple of hooks, and her love affair with crochet began.
Although she is relatively new to the world of crochet design, Michelle is already making waves with her work. Several of her whimsical blanket designs, became an overnight Internet sensation with millions of views. This Lead to a feature on Tyra Banks FabLife TV show on how to make thousands off your hobby.
Find MJ's Off the Hook online in the following locations
About Amber | Divine Debris
Amber loves to crochet and design. Her mother taught her to crochet when she was a wee kiddo but didn't pick it up again until in her 20's and working in a craft store.
Amber has found through her crochet journey that she loves designing because of the creative aspect and is always thinking of new designs and drawing inspiration from just about everything.
Find Devine Debris online in the following locations
Get the Crochet Foundry Magazine
Want to purchase a copy of The Crochet Foundry? Purchase using my link (below) and the code marly20 and you can save 20% off the purchase of your magazine!!!
Purchase Crochet Foundry here: https://crochetfoundry.com/?cf=6
Watch & Listen to the Show
Want to watch live on YouTube? Be sure to tune in at 10am MST on the Marly Bird YouTube channel. If you can't watch live that is okay, just catch the replay for your chance to win. Towards the end of the live show you will hear how to enter to win some amazing prizes from our guests.
Giveaway
Be sure to watch the full episode to learn how you can enter to win a prize. You must comment on this blog post and use the keyword.
FINE PRINT: While we LOVE your comments on Facebook, Twitter, IG, Ravelry and everywhere else we will only count the comments made on this blog post as entries. Please only one comment per person. We will email the winner directly so please make sure that you enter your email address correctly. You will have 48 hours from when the email is sent to claim your prize or we will pick a new winner.