What is CreativeBug?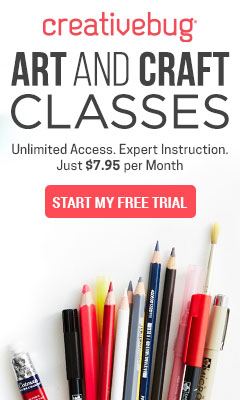 #ad Affiliate Links are used on this page
"We are artists supporting artists," said Creativebug.com CEO Ursula Morgan. "It's important to not only inspire creativity and learning, but to also support our customers' artistic journey for the long-haul. Giving them the opportunity to keep a personal library of their favorite classes to look back on for help or inspiration as they grow in their craft."
A monthly subscription to Creativebug.com costs $4.95. In addition to unlimited access to over 500 classes and the option to choose one class per month for lifetime access, Creativebug.com also provides:
Award-winning high-quality video workshops that provide an intimate in-person-like experience for the student
Instruction from first-class designers and artists featured in Martha Stewart Living, O' The Oprah Magazine, Vogue and more
A free mobile app for learning on-the-go – no internet connection required
Beginner-to-advanced classes across a variety of mediums from knitting, crochet, sewing and quilting to paper crafts, food crafts, jewelry making, flower arranging sketching, watercolor, bath & body and more
A vast array of inspiring projects from fashion and home décor to gifts, holiday decorating and more
A Work-Along Discussion Board where users can interact with each other by making comments, "liking," and posting photos and updates for their class projects
A 14-day free trial with unlimited access to over 500 video classes and lifetime access to one free class (no commitment necessary to keep free class)
To sign up for a free trial, check out free classes and techniques or learn more about Creativebug.com and its offerings please visit www.creativebug.com.
---
CLASSES WITH MARLY
The CreativeBug classes with Marly Bird are listed below.
Introducing Marly Bird: CreativeBug Instructor
Crochet Shawl Workshop: Learn 3 fantastic shawl patterns you will just LOVE!