Red Heart Boutique Unforgettable Skeins Giveaway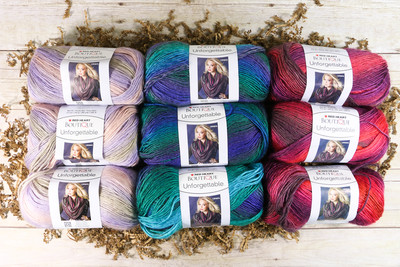 Enter to win Red Heart Boutique Unforgettable Skeins! Prize includes 3 skeins each of Dragonfly, Winery, and Springtime yarn. The deadline to enter is March 24, 2015 at 11:59:59 p.m. Eastern time.
We'll send an email to the winner, so please check to make sure your email address is entered correctly. You'll get an extra entry for promoting the contest via social media. See the two options below (Twitter, Google+) to receive extra entries.
You can enter once daily, so return often to improve your chances of winning.
Special thanks to Marly Bird from MarlyBird.com for sponsoring today's National Craft Month promotion!
NOTE:  YOU MUST ENTER TO WIN AT THE RED HEART WEBSITE… This one and This one, both are entry locations.