Soleful Socks with Betty Salpekar (a Visionary Author),  was the guest on Yarn Thing with
Marly Bird.
Betty says she can't remember never not knitting. She thinks she learned when very young as a way for her mother to keep her entertained while suffering all those childhood deceases we now have immunizations against. Beginning with doll clothes and toys. In Junior High, the Home Economics teacher was impressed with her mittens when all that was expected was a scarf.
While expecting her first child, on PBS, she caught Elizabeth Zimmerman's Busy Knitter program. She swatched all the patterns that interested her in EZ books that she could get ahold of. Those swatches became tree ornaments at Christmas time that are still used, but what she remembers was the fascinating ways knitting can happen.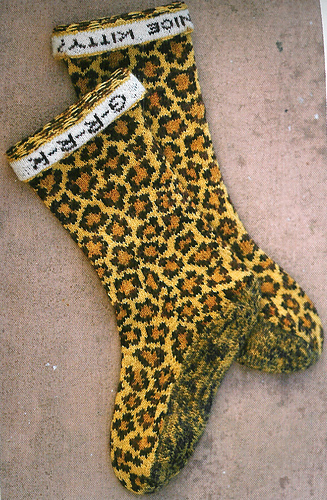 She feels that her mother and Elizabeth Zimmerman were her teachers originally, but finds inspiration from Barbara Walker and a lot of more recent designers. Socks, however, were not a motivation as socks are easy to purchase. UNTIL she won some sock yarn in a contest, so she knit a pair and realized once she wore them WHY people knit socks. After a while she wanted to reinforce her socks and to replace the sole of the sock when they wear out, and began to experiment with various cast-ons, grafting, increases and decreases, working away from what she found 'fiddly' toward a more intuitive construction.
A huge boost to her designing career happened when Betty took home the big prize from XRX in a contest for sock designs. She submitted a few designs but the won that was picked as the Grand Prize winner were her Leopard Socks feature a hidden message inside the cuff that reads, G-R-R-R NICE KITTY? and an innovative sole that can be replaced when they are worn out. The spots on the socks are created with 2-color stranding and spot dying. We can see why they were chosen and the pattern as published in the book that spotlights many of the socks in that contest, Think Outside the Socks, published by XRX in 2010.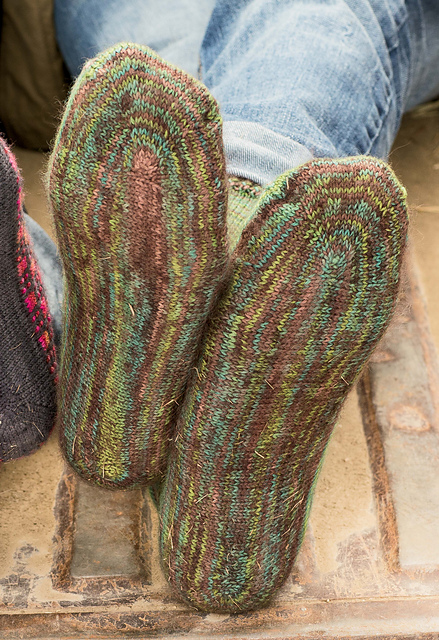 At the time that she won, she met Cat Bordhi who invited her to her Visionary retreat.  This is an invitation only event, a think-tank atmosphere, where talented people collaborate to create publications to further the creative design process. Cat's program gave her focus, she says, to buckled down, learning computer programs that she at first found overwhelming. Others in the visionary group have been a big help that keep her moving forward with confidence.  https://www.unicornbooks.com/visionaryauthors.asp 
Her new book Soleful Socks, Knitting from the Ground Up features many creative socks that continue her unique sole design. The Trellis technique makes Betty especially excited to share, Marly loved the colored numbers in the instructions. The work of the printer of the book will be appreciated by the readers and project makers who pick it up. Check out the patterns listed in Ravelry that are featured in the book.
If you missed today's episode you can listen at the original post:  https://www.blogtalkradio.com/yarnthing/2014/10/28/soleful-socks-with-betty-salpekar-visionary-author and it's available through iTunes as well.